LMS Clearance Laser System
The LKO/L-KOPIA LMS Clearance Laser System has a scan frequency up to 100 Hz, is very accurate, +/- 3 mm (0.12") with an angular resolution from 1° to 0.167°.

Z+F Clearance Laser system
The LKO/L-KOPIA Z+F Clearance Laser System is super-fast, extremely accurate, has very high resolution, scans 360 degrees and has a measuring range from 0-119 meters (390').

Clearload & Wideload
The LKO/L-KOPIA LD Clear & WideLoad Data Base Program is a combination of LKO/L-KOPIA LD-ClearLoad and LKO/L-KOPIA WideLoad programs connected to a database program (for all size railroad systems).

Load Measuring System
The L-KOPIA / LKO Load Measuring System has been developed for a range
of applications in load profile monitoring, from basic systems to full
wayside installations.

LD Clearance Laser System
The Clearance, Ballast and Track Center Measuring System is fast, accurate, has high resolution, a measuring range from 0 –70 meter (230 feet) and scans 360 degrees.

Surveying Laser System
The Surveying Laser System is used for fast, high accuracy surveying of tunnels, railways, roads, etc.

Harsco HY-RAIL®
LKO Teknik AB is the agent for Harsco HY-RAIL® in Scandinavia.

Mobile Laser System
The Mobile Laser System consists of an aluminum frame, a distance laser, a rugged and weather protected notebook computer and two superaccurate encoders.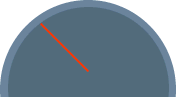 With the Speed of Light
Our Laser scanning systems for measuring of tunnels and other structures on railways, roads, etc. provide fast and accurate results.
[11/22/21]LKO performed a second on-track Mobile Mapping project outside Sundsvall, Sweden. On this second survey,...
Visit no 493949 to this page since 08/01/97.