Z+F Clearance Laser System
The LKO/L-KOPIA Z+F Clearance Laser System is super-fast, 200 HZ (1,016,727 pixels/sec), extremely accurate (down to +/- 1 mm or +/- 0.04 inch), has very high resolution 0.070 degrees @ 200Hz or 0.035 degrees @ 100Hz, scans 360 degrees and has a measuring range from 0-119 meters (390').
The system is 100% eye safe (Laser Class 1) and operates under most environmental conditions. The LKO/L-KOPIA Z+F laser unit is light, compact and temperature controlled. The laser specifics mean that LKO / L-KOPIA Z+F Clearance Laser System can perform surveying tasks ten (10) times faster than the earlier laser hardware.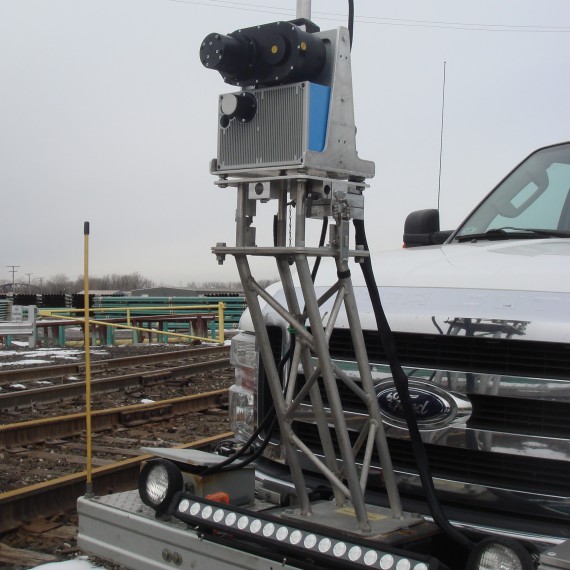 The LKO/L-KOPIA Z+F Clearance Laser System consist of the Z+F laser hardware from one of the most advanced laser manufacturers in the world. The LKO/L-KOPIA Z+F laser is specially selected to match our high end specifications.
The Z+F LKO/L-KOPIA Clearance Laser System also includes an electronic odometer, an electronic pendulum for cross and longitudinal level, a CCD camera system with superimposed text (continues Mile/Km/Feet readings, Track Segments, Track Numbers, Direction, etc.) from the specialized LKO/L-KOPIA laser software.
LKO/L-KOPIA Clearance Laser Systems (B1, LD, LMS and Z+F) has been in operation since 1993 (first on the market). We have over 35 systems worldwide, including Europe, North and South America, Far East and Australia. Some systems are owned and operated by customers and some are operated by LKO and L-KOPIA for contracting services.
The LKO/L-KOPIA Z+F Clearance Laser System produces clearance & surveying data for several applications, such as ClearLoad Simulation, ClearLoad Diagrams, Plots in different scales, AutoCAD conversion, Minimum Track Center and Ballast Calculation and GPS data integration. Data files from the LKO/L-KOPIA system are compact and can easily be e-mailed from field units to processing offices.
Applications for the LKO/L-KOPIA Clearance Laser System:
• Total Clearance Survey (including Track Center Measuring and DVD)
• Collection of continuous Track Center Distances
• Cross Sectioning and Area and Volume calculations in Tunnels
• Continues Ballast Volume and Profile Surveys
• DVD taping (separate or together with laser survey)
• Platform "edge" and "gap" surveys
• Load Surveys (checking clearances for oversized loads, real time on track, road or water)
• GPS/DGPS data separate or integrated with our clearance surveys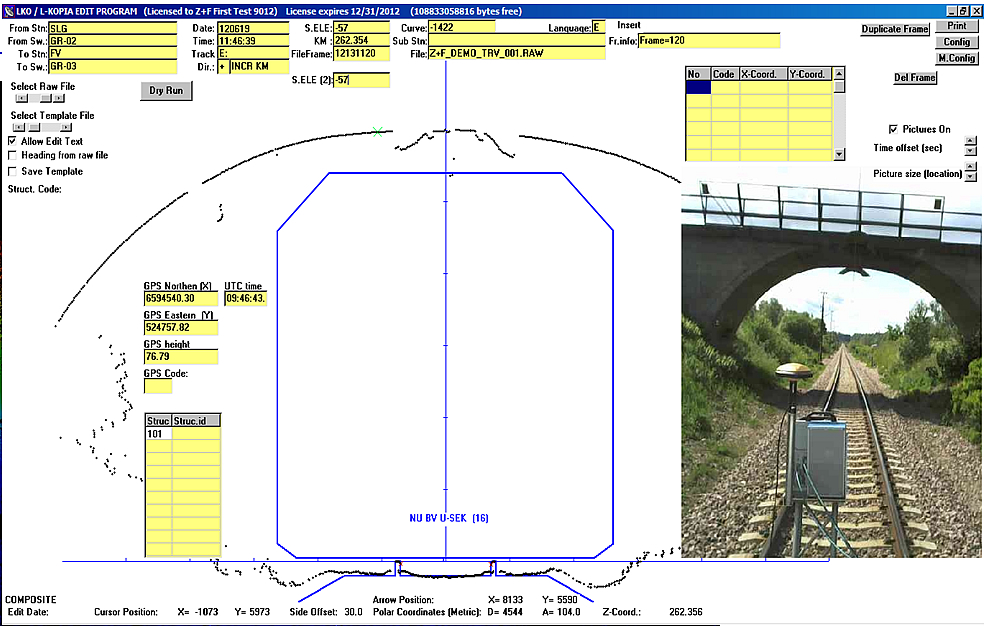 The LKO/L-KOPIA B1, LD, LMS and Z+F laser software is built on over 22 years of laser software experience. The LKO/L-KOPIA laser software automatically recognizes the laser hardware in use. This makes it easy for our customer to upgrade to a newer Z+F laser. We have several side programs for use with the LKO/L-KOPIA laser data, such as our ClearLoad & WideLoad Programs, plus conversion software for AutoCAD. The latest special LKO/L-KOPIA feature is the 3D Mobile Mapping capability per above sample.
L-KOPIA/LKO also designs software for conversion of our standard data-format into our customers' Mainframe Dimensional Load Programs. Furthermore, we supply our railroad customers with tailored LKO/ L-KOPIA ClearLoad © software.