L-KOPIA / LKO Mobile Laser System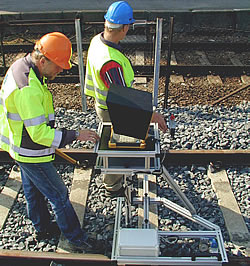 The LKO/L-KOPIA Mobile Laser System consists of an aluminum frame, a distance laser, a rugged and weather protected notebook computer and two superaccurate encoders. The system software accept different laser hardware with a measuring range up to 60 m or 180 feet without reflector. With the designed software, immediate results are produced on a graph of the object being measured. The final result consists of a heading with all specifics such as site/track segment, name and numbers of tracks, as well as coordinates in X, Y and Z (there Z is longitudinal distance from the electronic odometer). The data output is 100% compatible with the L-Kopia Clearance & Surveying Laser System.
The LKO/L-KOPIA Mobile Laser System is light, approximately 29 kg (55 lbs.), and can be handled by one person. The system is compact and easy to ship.
LKO/L-KOPIA Mobile Laser System applications:
Positioning of objects such as signals, platforms etc.
Surveying of railbound objects, including caternary wires etc.
Limited clearance testing
Control of track position to fixed objects
For further information, please contact us via e-mail, phone, fax or mail.